The Algarve is the southern most region of Portugal, occupying an area just over 150 kilometers from its eastern boundary with the Spanish border to its western boundary with the Atlantic Ocean. It is known to be the region most devoted to tourism in our neighbouring country. We have prepared a selection of ideal locations for your next audiovisual project.
On the coast of the Algarve region, the landscape becomes rugged, with rocky walls eroded by the sea for thousands of years. The result is breathtaking: between beaches and inlets of turquoise water, giant natural arches, cliffs, and even steep-walled islands follow each other.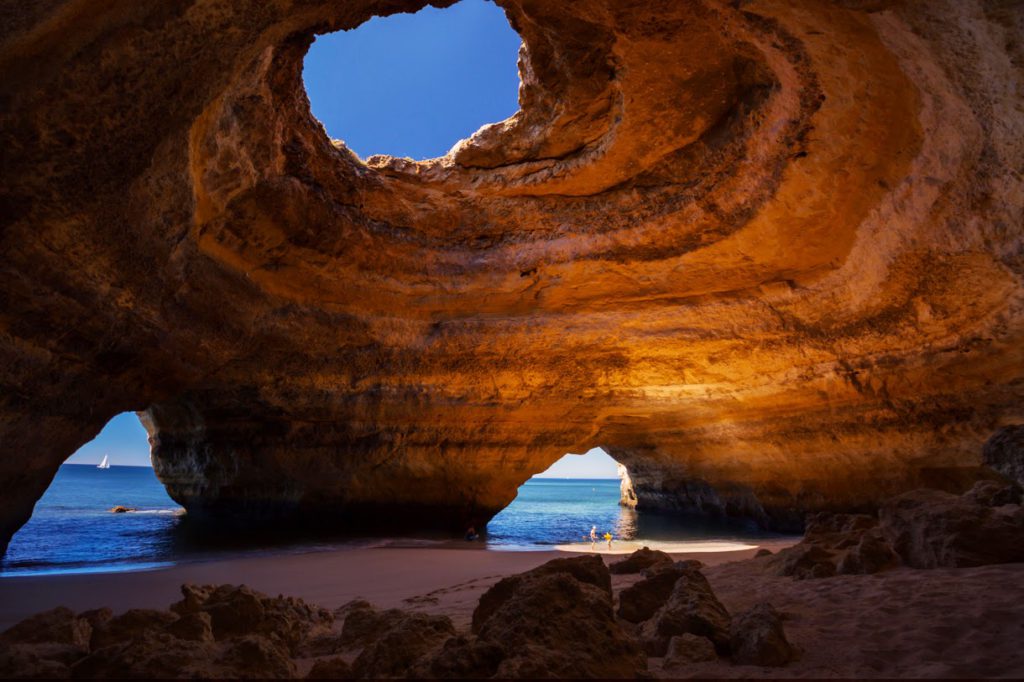 A combination of nature, an intriguing past, good gastronomy and friendly locals make the Algarve an irresistible destination. We already have it in our favorites list. And you?
If you are thinking about an audiovisual project and you want to do it in this area, we invite you to know a little more about our member in Portugal, who has already worked for companies such as Honda, Ikea or Lamborgini. Discover AG Films through its portfolio and the locations that they can offer you in Portugal.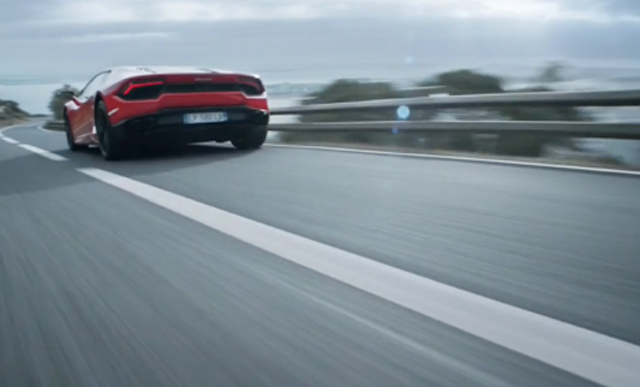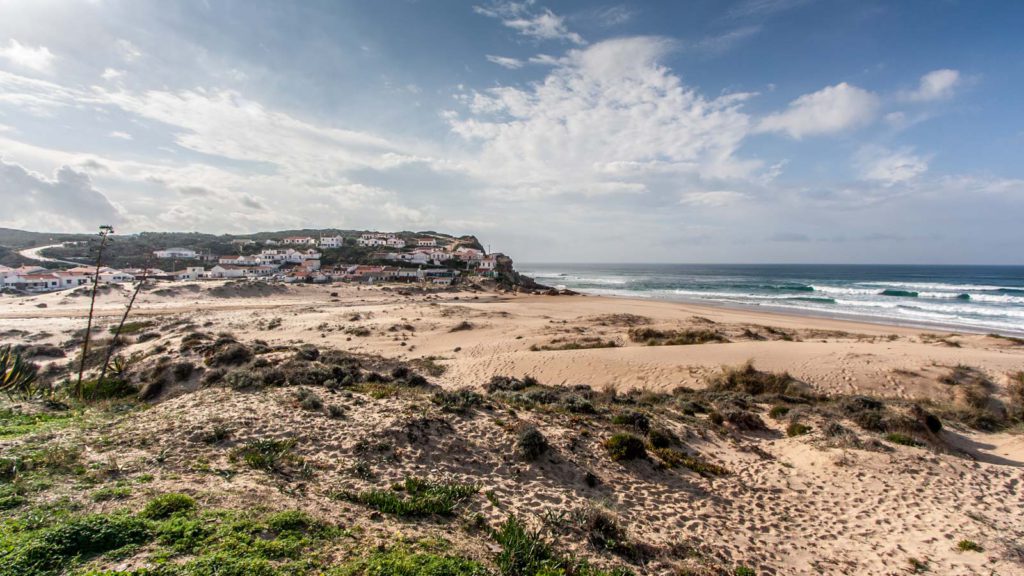 Ponta da Piedade
Ponta da Piedade is a set of cliffs, caves and coves with crystal clear water, with stone arches and the possibility of seeing the beaches from another perspective.
It is a large, very rugged coastal area of sandstone, where you can find gems like this set of natural formations between rock pillars, tunnels and caves. These golden sandstone cliffs, with their impossible angles, stand in vivid contrast with the deep green and turquoise tones of the ocean's waters. A very impressive area that you can use in your next audiovisual production.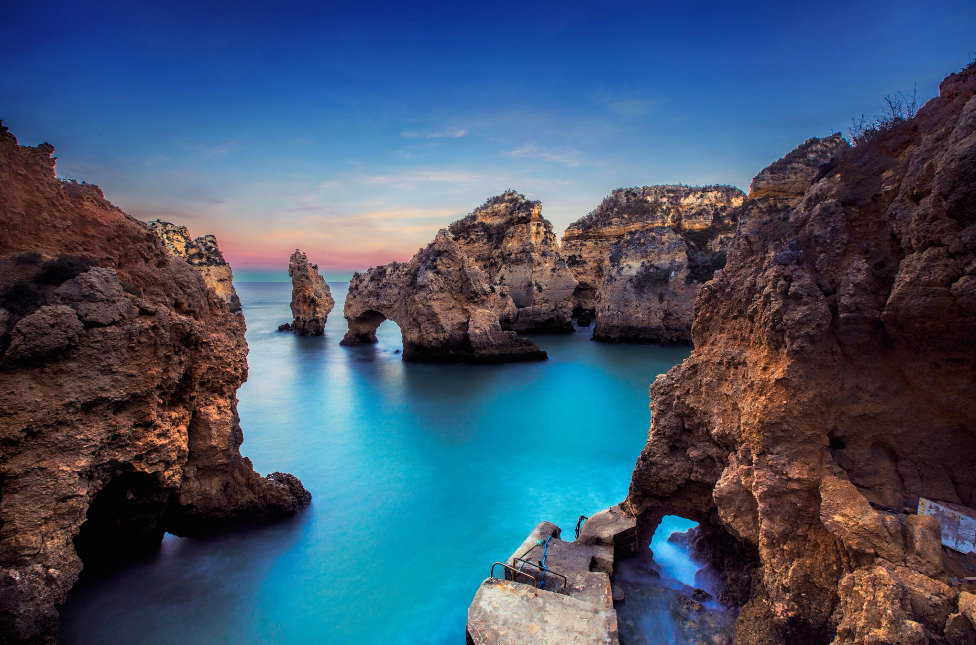 Natural Park of the Ría Formosa
The Ría Formosa Natural Park is one of the most amazing places in the Algarve, not only for its variety of landscapes, but also for its unique location. It is a coastal lagoon that changes constantly due to the continuous movement of winds, currents and tides.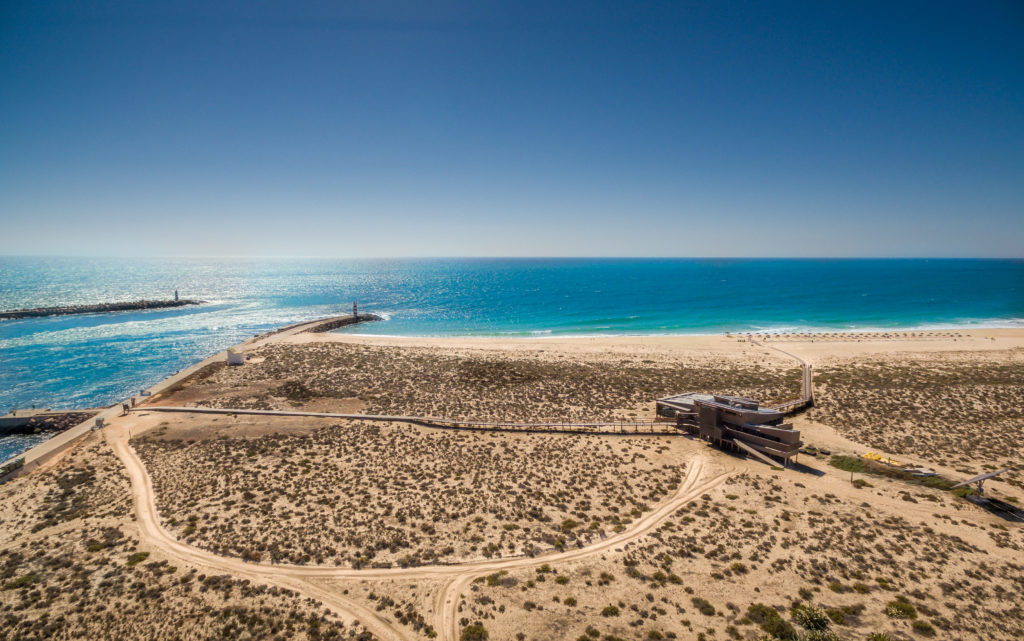 Ría Formosa covers an area of ​​about 18,000 hectares and is protected against the sea by five barrier islands and two peninsulas: the Ancão peninsula (called Isla de Faro), Isla Barreta also known as Ilha Deserta, the island of Culatra (where the lighthouse of Santa Maria is located), the Island of Armona, the Island of Tavira, the Island of Cabanas and, finally, the Peninsula of Cacela. Which of them will you choose for your next audiovisual project?
The diversity of habitats is impressive: barrier islands, marshes, islets, dunes, salt pans, freshwater lagoons, agricultural areas and forests. All together an impressive diversity of landscapes full of natural and animal life.

Benagil Cave
This huge cave, also known as Algar de Benagil, is famous for its opening in the 'roof.' It surrounds a giant beach like a complete dome. Besides incredible, it is a hidden beach that can only be accessed by sea.
You can enjoy its sandy beach and its blue waters that will leave you dazzled. In this cave, temperatures are not too high, and at the top of the cave we find a large oculus, which illuminates this magical space to give a spectacular image to your next photographic shooting.
The great natural oculus has been formed over the years, and it is not the only one, since, apparently, in the west part of this cave another oculus is in formation, so it is very possible that in some years, or centuries, the cave is illuminated by another large window to the sky.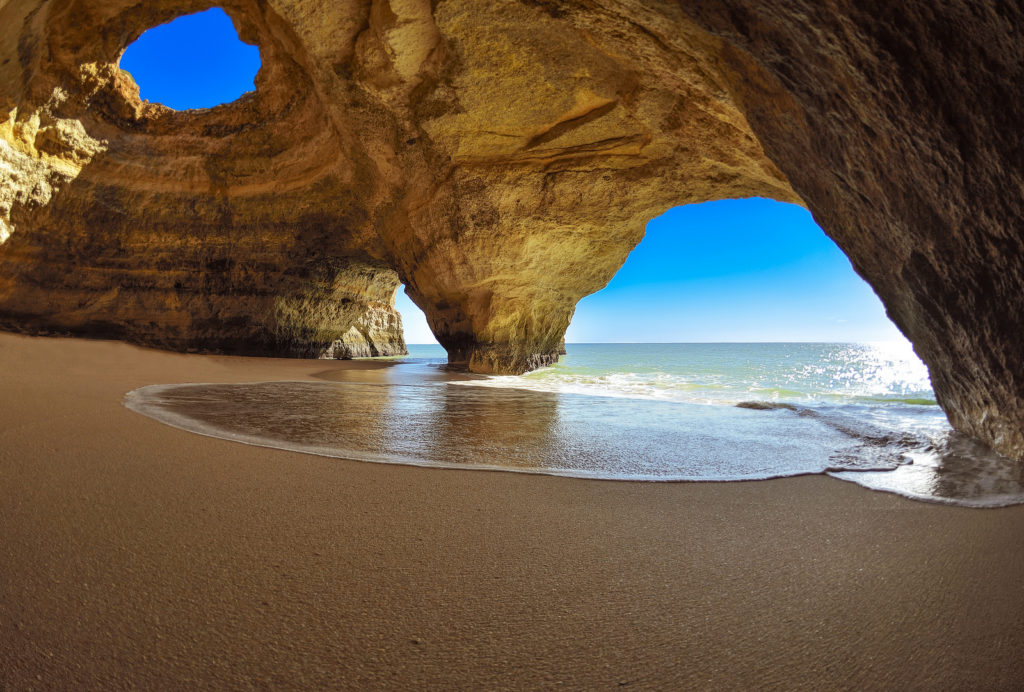 Cape San Vicente
Cape San Vicente de Portugal is located in the southwestern corner of the country and is a place with towering cliffs that offers spectacular views of the Atlantic. The enclave is presided over by a lighthouse and an old fortress.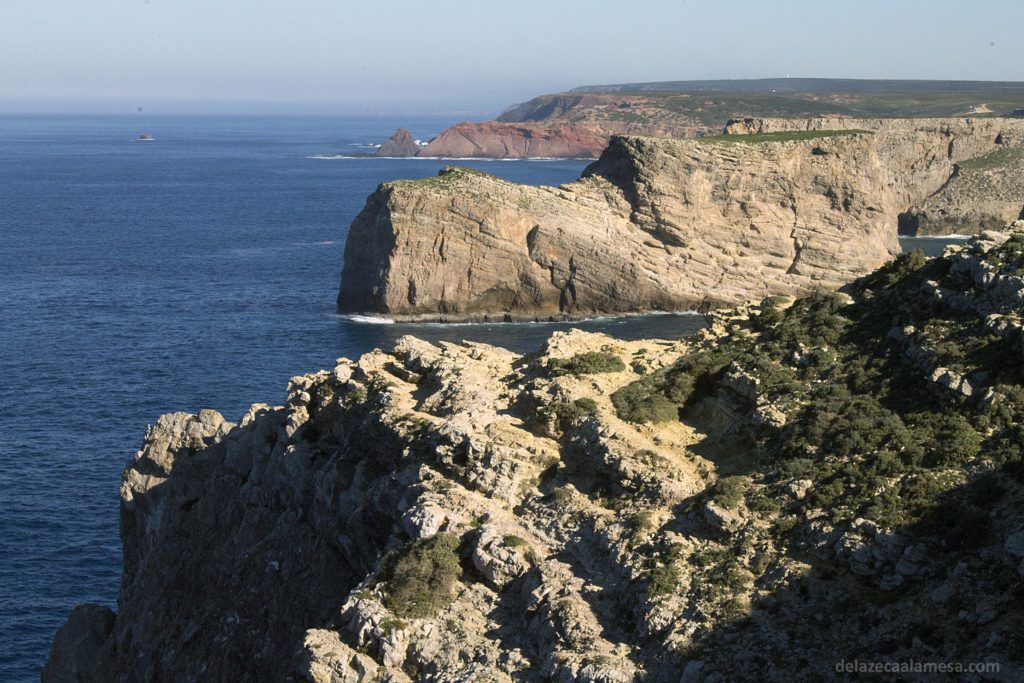 Apart from this natural landscape, there is not much else in the area, which is why it is usual for visitors to stay only for a while, take some photos and retrace the road in a few minutes, so it is an ideal location to make in peace your next audiovisual production.
The winds have molded a panorama of soft hills covered with hard bushes. The road advances towards the west from the big tourist areas of Albufeira or Faro, crossing longitudinally the Natural Park of the Costa Vicentina. As you get closer, the towns become tiny and austere, as if they wanted to adapt to the environment.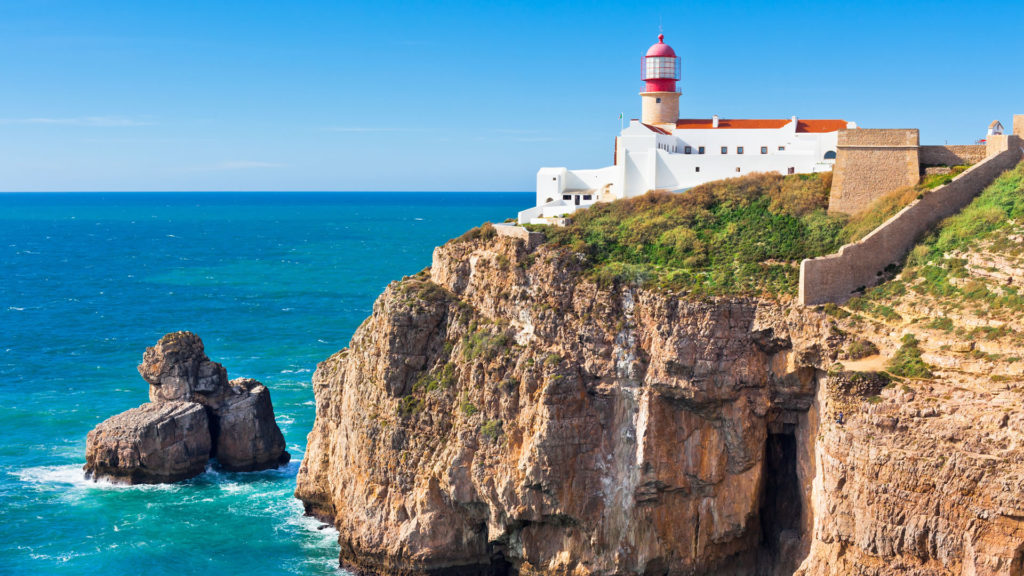 Carvoeiro
A picturesque and beautiful fishing village, which despite tourism still has some personality. Its beach is an essential stop, as well as the wooden path that joins the town to the Boneca Grotto, from where you will have impressive views through the two 'eyes' of the cave.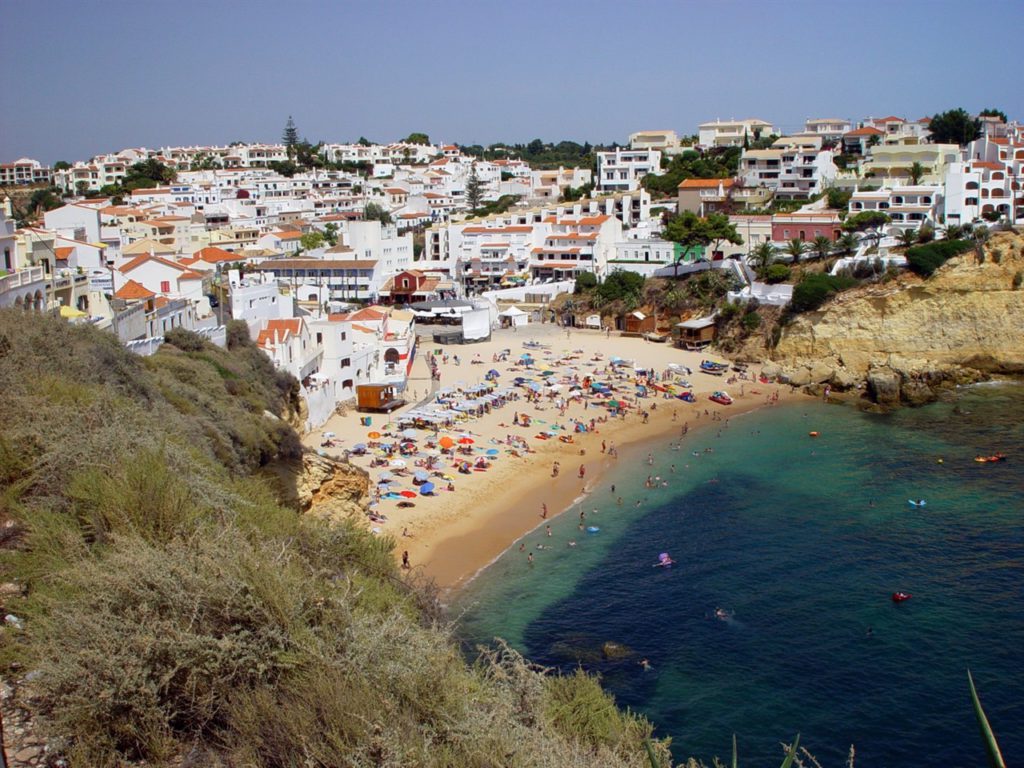 It is a small town, with just 3,000 inhabitants. Like many villages in the region, it is no longer just a fishing village, everything is in recent decades mainly geared towards tourism. Its beach, enclosed between cliffs, with crystal clear water and fine sand, easily explains the attraction for visitors to this part of the Algarve coast.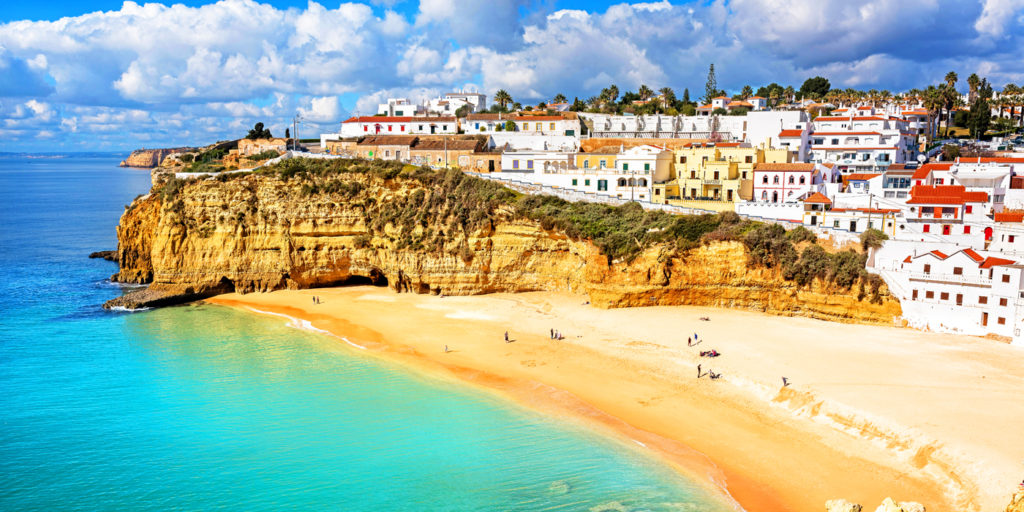 Tavira
Tavira is the most interesting city in the East of the Algarve. It has a Roman, Arab and Christian historical heritage. Its center has remnants of walls, castles, churches and bridges from different eras. Tavira has fantastic beaches on the islands of the Ria Formosa area, south of the city, which can be reached comfortably by boat. Its main point of reference is the Gilao River and the pedestrian Roman Bridge that crosses it.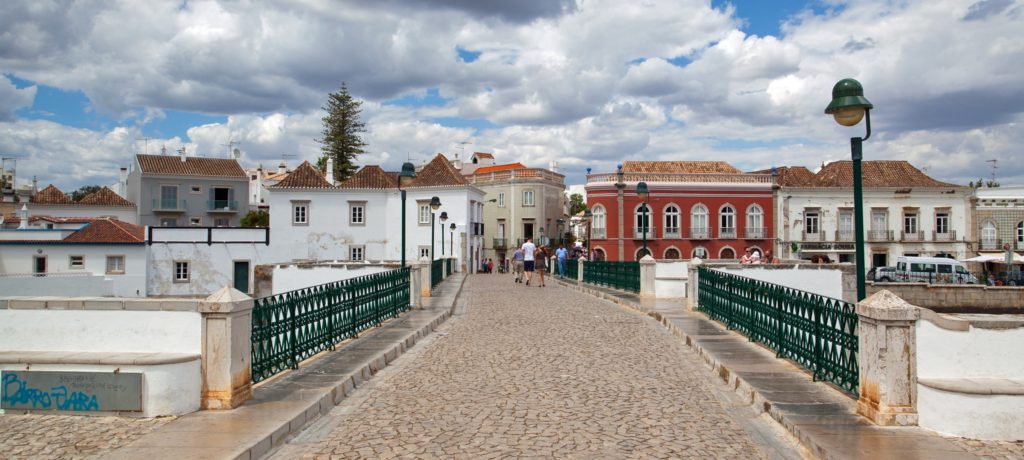 A quiet location option in the Algarve for your next audiovisual project.

Praia da Marinha
This is one of the most typical postcard beaches of all Portugal, and although the whole coast of the Algarve is dotted with stunning beaches, this is one of those places that leaves a visitor open-mouthed thanks to its cliffs, rocks and clear waters.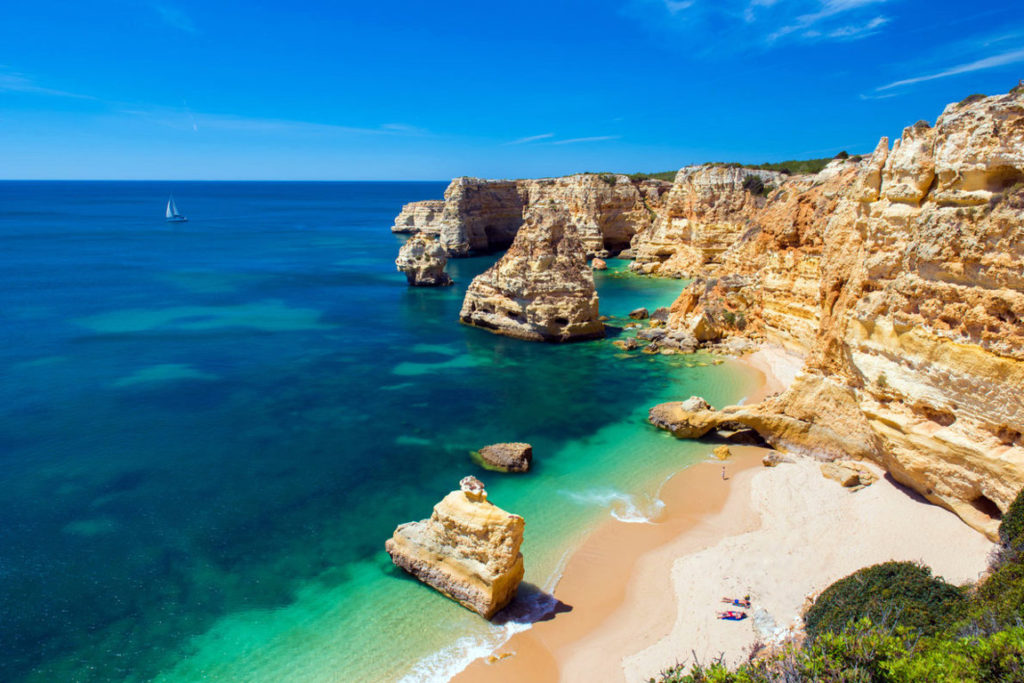 Praia da Marinha, near the town of Lagoa, is considered as one of the 10 most beautiful beaches in Europe and as one of the 100 most beautiful in the world. It is located 8 km southeast of Lagoa, where the cliffs have been cut and transformed into a series of pinnacles, crevices and caves and is easily accessible. Are you going to miss this location for your photo shooting?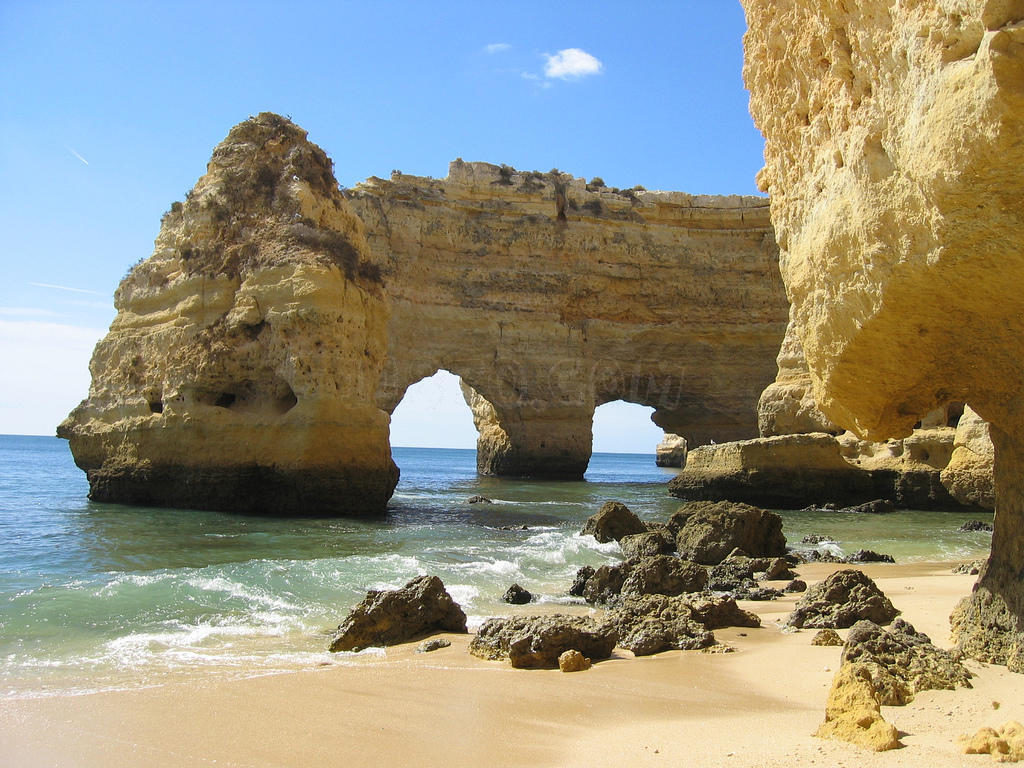 Praia Dona Ana
Praia Dona Ana is one of the beaches of the community of Lagos. It's a sand beach between cliffs, the most photographed in the Algarve, and considered as the most picturesque beach in the region. In addition to its scenic beauty, you can appreciate the sunrise and its unforgettable sunsets.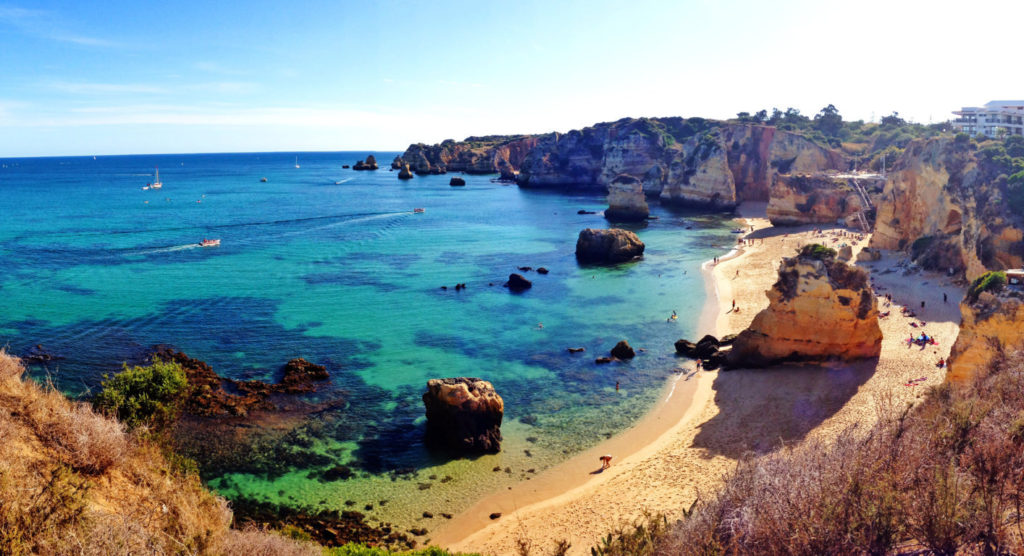 The small cove is surrounded by steep cliffs of colorful strata, while the crystalline waters bathe the golden sands. It offers visitors calm and clean waters, beautiful short walks along the golden cliffs and a selection of good cafes located on top of them. One of the most comfortable locations in the area, where you will have to choose the season well, so you do not find it overcrowded during your audiovisual production.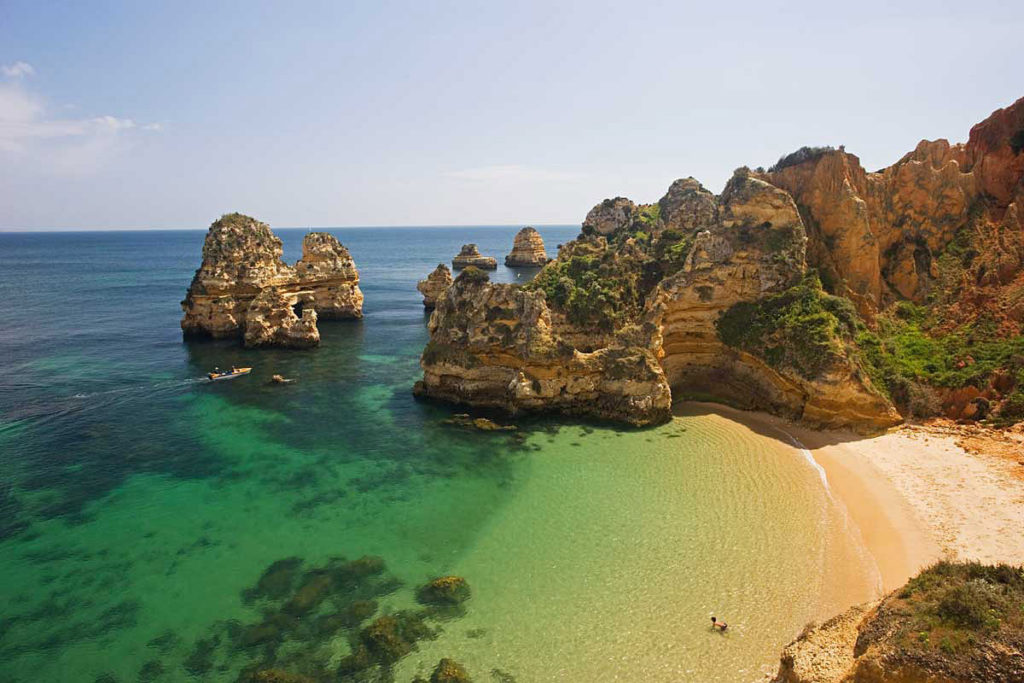 Praia do Barranco (Sagres)
East of the city of Sagres we find the quiet Praia do Barranco. Imposing calcareous cliffs surround a small, secluded and quiet sand beach. The Barranco Beach appears in the mouth of one of the most beautiful valleys of the Algarve, with mountainsides covered by a tall scrub of juniper and imposing limestone emergences.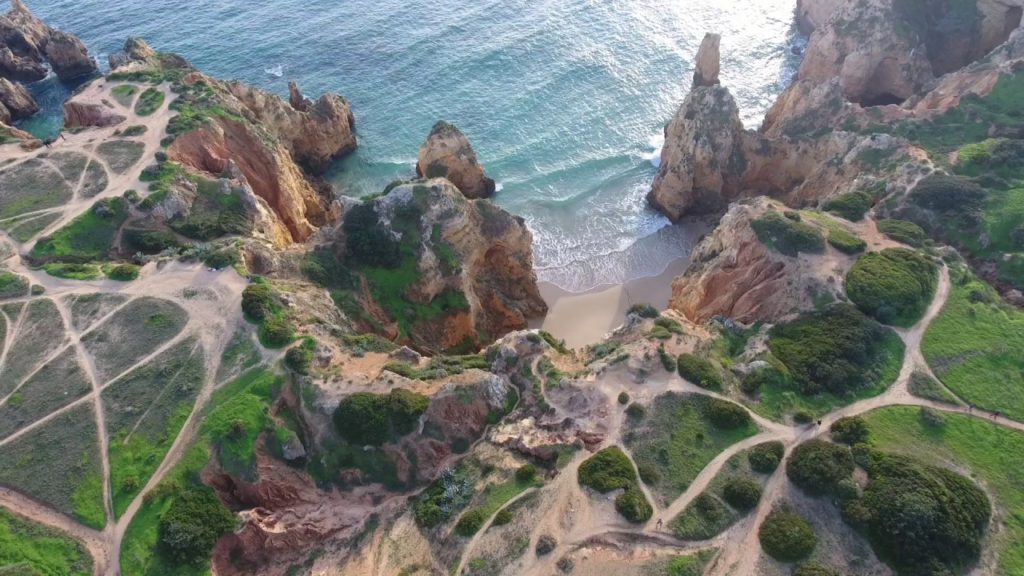 It is small, and has a small dune field. It is difficult to access by a dirt road that crosses a pine forest. It is a calm and preserved beach where it will be a delight to locate your next audiovisual project.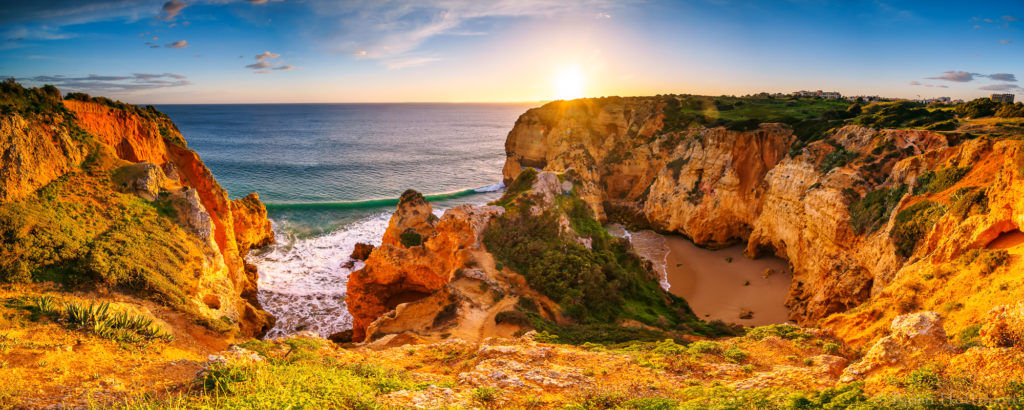 Praia de João de Arens (in Alvor)
Ponta de João de Arens – it owes its name to a shepherd who lived here – is one of the most beautiful coastal spots in the Algarve. It is composed of sandstone rocks that display forms that hide coves, caves, and is a completely idyllic corner. It is located between the villages of Alvor and Portimão and is not very easy to access. Its isolation makes it a paradise that is also enjoyed by nudists.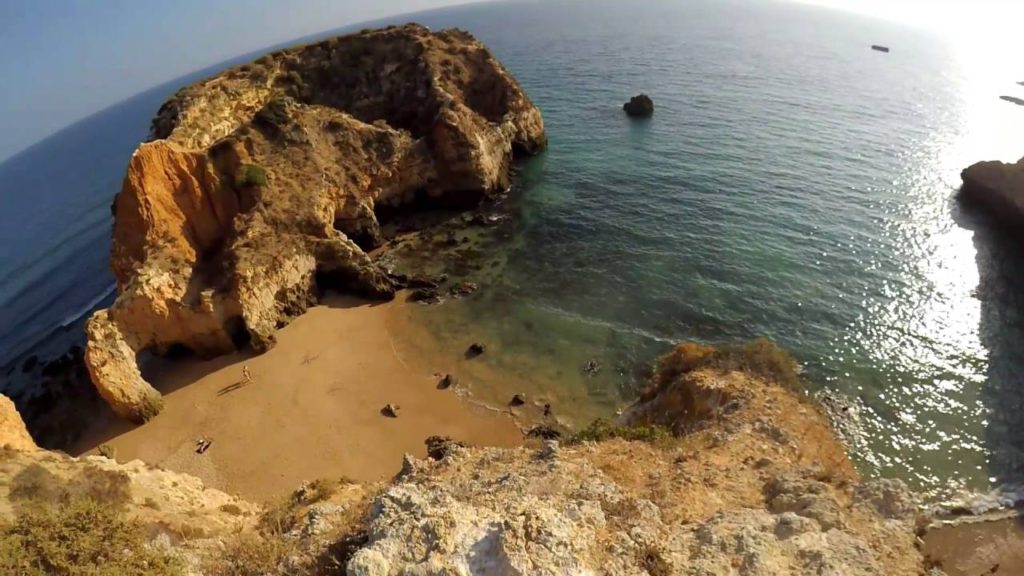 Surely it is one of the most idyllic corners that can illustrate your next audiovisual production or photographic shooting.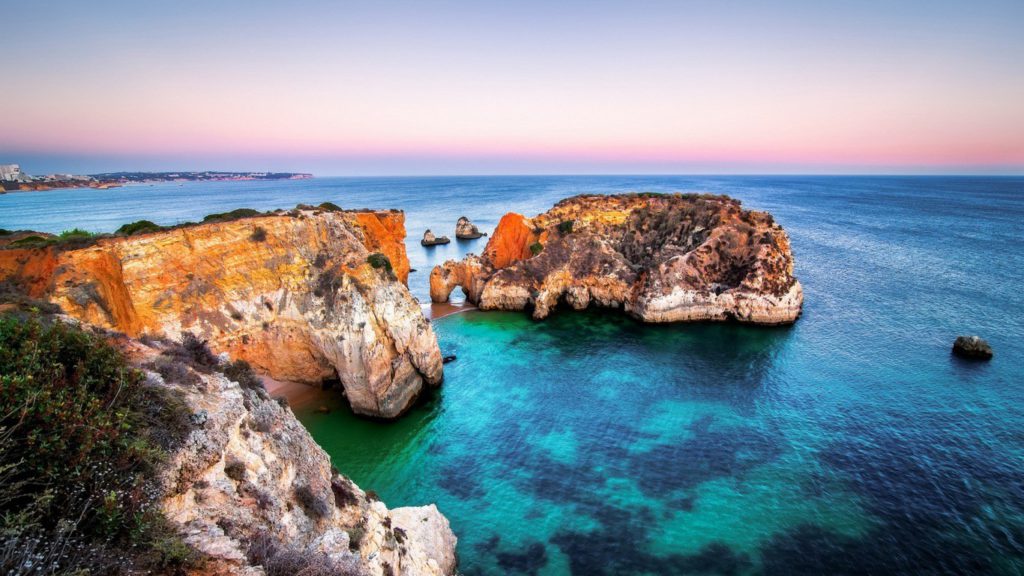 IF YOU LIKED THIS COMPILATION OF LOCATIONS OF Portugal AND YOU WANT TO KNOW MORE ABOUT REMOTE DESTINATIONS LIKE THESE FOR YOUR AUDIOVISUAL PRODUCTIONS OR PHOTOGRAPHIC SHOOTINGS, CONTACT US NOW.